Some time last year (or maybe the year before that) a friend gave me a set of crochet hooks that she didn't want anymore. I've always found crochet to be a bit of a mystery and thought it would be a new and interesting way to clear some of the wool from the wool box.
After about ten attempts at the "magic circle" I realised that actual magic may be required, lost my temper and hid the crochet hooks at the bottom of a drawer.
Some amount of months went by. I left my job and milled around for the summer not really sure what to do with myself. It took a while, but finally I reached the point where I'd run out of ways to entertain myself and it was either get a job or give crochet one last chance.
Obviously I chose crochet. Here are my creations. Shortly after I finished making them I started working again and the crochet hooks have returned to the bottom of the drawer. But at least I got past the cast on phase and could probably crochet something again if I really wanted to.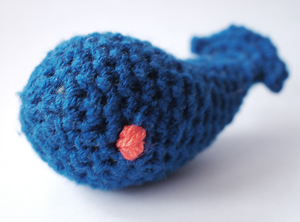 Tiny Whale pattern from Planet June.
Little orange cat pattern and Minecraft Creeper pattern from Nerdigurumi.